Mortgage Minute: Your Questions Answered
Date Posted: May 25, 2021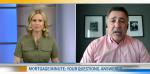 Q: If there is a change to the qualifying rate, who will be impacted?
A: Right now, it is intended for people who intend to buy with 20% down or more but, that being said they are also looking at potentially installing for people who buy with less than 20% as well. If they were to also apply it to those buying with less than 20% down that would be more impactful, especially to the first time home buyers. I believe they are doing this in an attempt to cool the market.
Q: We are considering buying a property in the outskirts with about 20 acres, I have heard to be careful as the bank may not lend on the purchase price due to the house being on property with acreage, is this true? Should we put a finance clause on our offer?
A: The finance clause should be on every offer. When you are buying a large parcel of land the banks and lenders with generally land on either the primary house and five acres or the primary house and ten acres. So if you are going in with 5% down and you are buying a 9-8 parcel of land with no financing clause, the risk is that the lender may come back and say, I know you paid 600K for it but really the house and the five acres or ten acres is 530K therefore you have got to come up with the other 70K. That being said, when you do get to rural areas generally, the land does not add that much value and the lenders and appraisers have appraising it, I just caution people to be careful.
For the full segment with Frank Napolitano on CTV Morning Live; click here.